IHA Student Design Competition Winner
To reduce single-use plastics within the 

beauty

 
industry.
A reusable bottle that mixes a compacted round of concentrated shampoo with water. Not only does this completely transform the overall user experience, but it also decreases the overall plastic usage and the emissions created by shipping water-heavy products across the globe. 
The Current Experience
(which isn't great)
I mapped the journey of the current shopping experience to further understand areas of improvement. 
To gather qualitative data, I interviewed individuals on their haircare preferences and their thoughts on sustainable haircare options.
I was able to pull valuable insights from these interviews that I later used to create design criteria for this project. 
I used all of my user research to define four major groups of target users. This exercise allowed me to design for a large percentage of the market.
Analyzing the Competition
I researched existing products and could not find any options that targeted big brands in a sustainable fashion.
Based on 85 respondents, only 8% would be open to using shampoo or conditioner bars.
In order to develop feasible solutions, I recruited my fellow chemical engineers for advice on the concentrate formulation and how it might be dispersed into the bottle. 
I drew up some initial concepts, then gathered feedback from my peers on which options were most compelling.
I categorized my design criteria to
clearly
 understand my priorities for this product.
I used these criteria to efficiently evaluate my concepts and to decide on a path forward. 
I refined these ideas based on the information deduced from the above chart, and decided to move forward with the "shampoo 

smoosher".
I visualized my concepts on paper, but sometimes 2D just doesn't cut it. I created this rough prototype using trash I collected around the studio and got to testing. Reduce, re-use, recycle, right?  
Because Clearly is a personal care product, I wanted the aesthetic of this product to feel clean and gentle. I chose lighter tones and translucent materials to produce this effect. Additionally, the translucent materials offer functionality since the user needs to see inside of the bottle to know when the solution has been thoroughly mixed. I also wanted to indicate the use of the product by using textures on the main touch points.
I wanted the form to be unique, yet approachable. I used lofted shapes to create a soft but interesting form. 
I wanted to create a functional model, but I realized it required a lot of trial and error. I experimented with 3D printing to get the perfect tolerances for my design.
I was able to create a working prototype to demonstrate the functionality of my bottle. This model is made of 3D printed PLA to give the essence of the main bottle being translucent. The top and bottom are 3D printed nylon SLS.
Clearly is intended to be part of a proprietary system that allows users to adopt sustainable habits while engaging in familiar processes. Clearly would ideally be available in all convenience and grocery stores and be priced similarly to existing shampoo products since they would contain the same amount of active ingredients.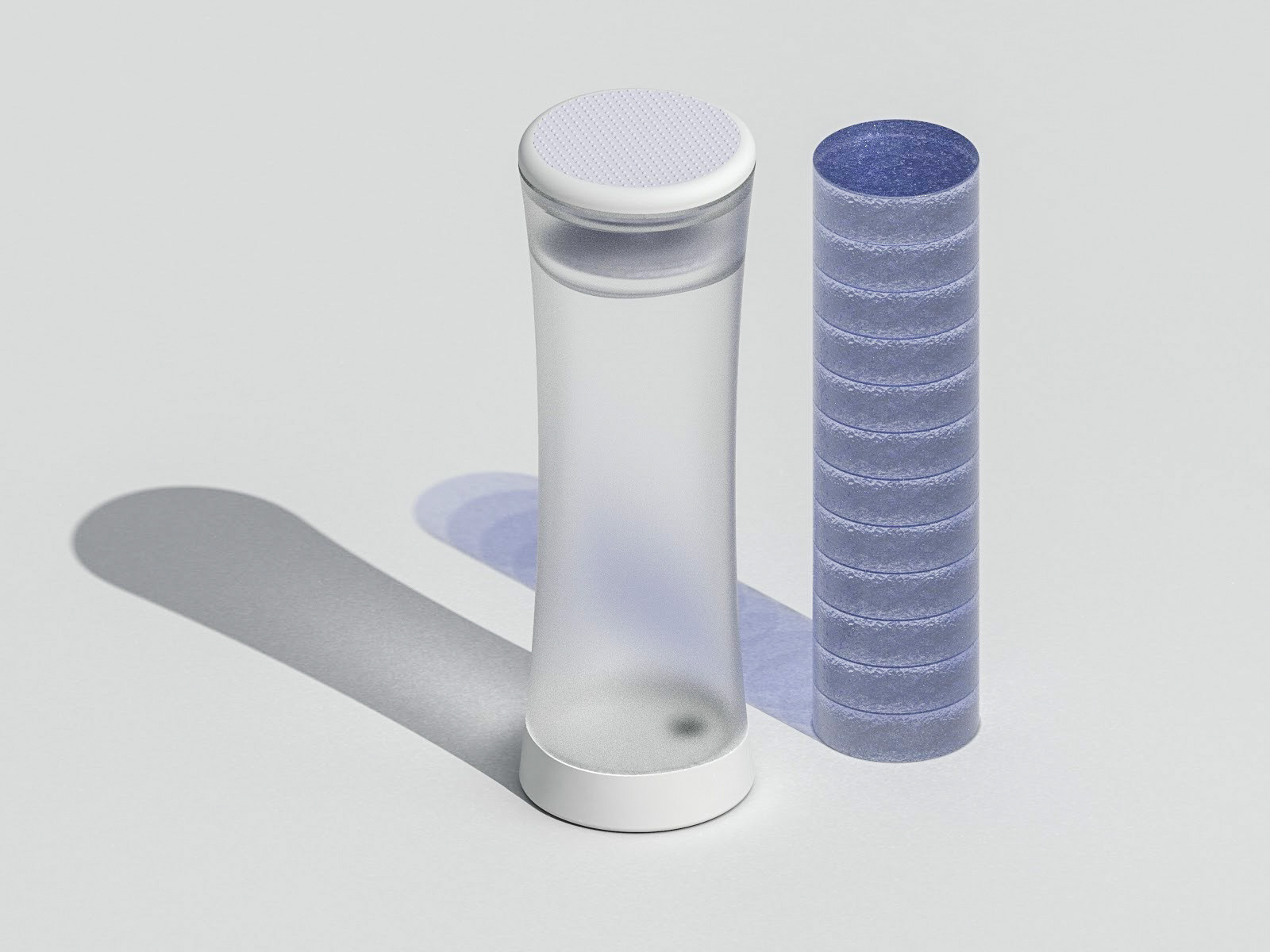 Ideally, this product would be enclosed in a dissolvable membrane and would be sold with zero packaging. However, since packaging is an extremely valuable marketing tool for companies, I decided the concentrates could also be packaged minimally in unique paper packages. This would still give companies a creative opportunity to package and display their products on the shelf, while reducing their environmental footprint significantly from their existing practices.
In the event that this product was shipped directly to consumers and needed more durable packaging, I created a paper tube option as well. This tube is made of 100% paper pulp, which can be entirely recycled. The goal for this concept was to make paper feel premium.
Obviously more development needs to take place to fully prove this concept. More research needs to be conducted on the concentrate formula to ensure adequate mixing and hair care companies would most likely need to implement new manufacturing processes to manufacture these concentrated formulas. Also, mechanism testing would need to take place to ensure the bottle's mixing capabilities. 
However, if the necessary development took place, Clearly technology could extend into a line of products (conditioner, bodywash, facewash, etc.), and make a substantial change in the personal care industry.